e-book Apps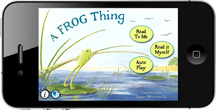 Read the book or let the app read to you, flip the pages, listen to the award winning audio, search for hidden sound effects, and even click on each word to hear it read aloud as you learn to read.
Our award winning books and audio are now available as Apps for your Smartphone and Tablet! We partnered with Oceanhouse Media (the folks who are releasing all of those great Dr. Seuss Apps) and they've created beautiful and fun adaptations of our stories. Of course, our books come with their engaging audio to begin with, so having it all at your fingertips in a portable app is fun and convenient, especially for those long car rides with the kids.
A Frog Thing, our newest app, was just released on February 8th. Check it out on your Apple or Android device...
Ellison the Elephant came out in January and with FIVE stars in the iTunes Store, Ellison is a blast! (See below for some buzz about Ellison and Leo.)
Leo the Lightning Bug was released last July and has FIVE stars in the iTunes Store!
Here's where you can find our Apps online:
Some of the buzz about our apps…
Editor's Choice: Ellison The Elephant is a beautifully illustrated eBook with a heartwarming tale about finding your voice and the importance of being yourself...I highly recommend it. — Best Apps for Kids
Leo the Lightning Bug, with its rich illustrations, and smooth perfected interface, is another winning digital storybook from OM that will make a wonderful addition to a child's virtual library. — AppTudes
This is another excellent book from Oceanhouse Media. — Internet Gumshoe
This wonderful children's story is brought to life in such a way as to be enchanting and fun at the same time…. Oceanhouse Media has a reputation for quality apps, and Leo the Lightning Bug is no exception. It is a quality app that will entertain your child with, or without you. It will be treasured for years to come. — apps for iPads
By combining the original text and artwork with features that entertain and promote reading, this interactive electronic book attracts children of all ages. — Famigo