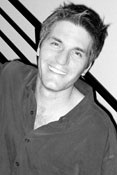 Eric Drachman (Founder)
Kidwick Books was founded by Eric Drachman, whose quest for a fun and original present for his nieces and nephews led him to create his first rudimentary books-on-tape. Eric's dedication to the quality of the books and audio set the tone for Kidwick Books and paid off in critical acclaim for Leo the Lightning Bug. Eric is involved in every aspect of Kidwick Books. He likes to say that he "writes, directs, and produces children's picture books."
About Us
Kidwick Books creates quality picture books with audio CDs. The text, illustrations, and audio are developed by caring adults, with respect and admiration for our little readers. Each book comes with the audio CD - a dramatization of the story with kids playing the kids' roles, sound effects, and audible page turns - because seeing AND hearing makes more senses!
The exceptional authors, illustrators, musicians, composers, and of course, the cast of voice actors are all an integral part of the Kidwick Books creative team. To see their pictures and learn more about them, visit our Authors & Artists area.
For more information about Eric Drachman, check out his interviews or read his full bio.